It has been quite a journey since I decided to open my own Interior Design Firm. It all began with my husband believing in me and pushing me towards my true passion of Interior Design. He supported me through the many ups and downs that come with having your own business. If it wasn't for my family I don't believe I would have accomplished all that I have.
As a designer I enjoy pushing my clients just a little bit out of their comfort zone to create something that is unexcepted, unique and designed with their personal story sprinkled throughout their home.
I can honestly say I love working with all my clients and designing beautiful spaces for them. With our streamline approach we design, manage, and oversee the entire process.
Our mission is to recreate and reimagine interior spaces while bringing customers dreams to life. There is nothing more satisfying than knowing we have exceeded all expectations.
---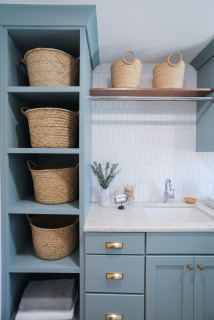 Photo by Bella Luxe Home Design & Interiors, LLC – Discover laundry room design inspiration